Who was Sutton Griggs?
by Tess Chakkalakal
Who was Sutton E. Griggs and what are his novels about? This is the question that has brought me to Duke University. I am Tess Chakkalakal, a Humanities Writ Large Visiting Faculty Fellow and Associate Professor of Africana Studies and English at Bowdoin College.
Trained as a Baptist minister and theologian in Texas and Virginia, Griggs began his literary career as a writer of political fiction in 1899 with his most famous novel, Imperium in Imperio. This novel provides a singular southern black perspective on politics during and immediately after Reconstruction, illuminating a particularly dark moment in US history. In his subsequent novels, Griggs examines the ways in which "race" – by which he means the inferior economic and social conditions of former slaves and their descendants – affects the personal and public lives of his characters.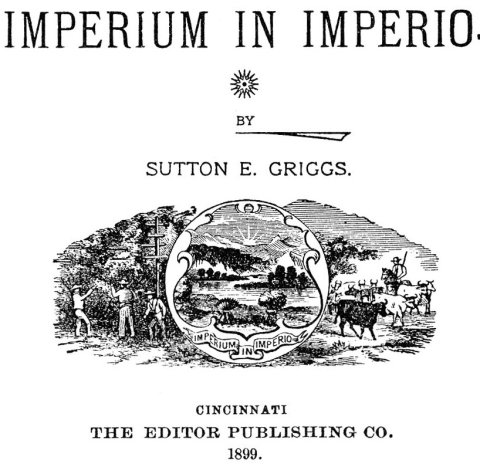 Griggs was one of the most prolific black authors of the twentieth century. Why is so little known about his life and work? Unlike contemporary white authors, Griggs's literary archive was not preserved. We have only his five novels and some pamphlets, most of which were self-published. My challenge is to piece together the life story that gives context to these works. Only then will it be possible to understand Grigg's role in the development of African American literature.
The first step is building an accessible archive. Most of his novels and pamphlets are available only in first editions. His essays are scattered among now obscure and hard-to-find black newspapers and there are few remaining items of his correspondence. My work is to collect and digitize the available material so that scholars like myself will be able to access it more easily. In order to do this I have been working with Will Shaw, the Digital Humanities Technology Consultant who is also funded by Humanities Writ Large.
Collaborating and sharing ideas does not come naturally to the humanities. For too long scholars have preferred to work in isolation, jealously guarding the ideas they derive through extensive solitary reading until those ideas can be published in book or article form. This project cannot be done in isolation and demands a new model. As I have worked to collect Griggs's writings, speeches, and sermons, I have consulted with scholars in Austria, Italy, and across the United States. By pooling our knowledge of this obscure and neglected author, we hope to develop a fuller picture of early twentieth-century African American book production and dissemination — passionate intellectual labor that was undertaken in spite of political violence and repression only to be discarded by the broader society.
In our attempt to construct the context for Griggs's writings we have been guided by what Adolph Reed termed a "generativist" approach to political thought, which rests on two premises regarding the nature of political discourses and ideologies:
they arise pragmatically, from a dialectic of concrete events, issues, actions, disagreements, patterns of social relations (including existing alliances and cleavages), and received ways of conceptualizing the social and political world; and
they evolve along with — they shape and are shaped by — those social contexts.
According to this approach, it is not enough to merely note that Griggs and the black writers who preceded and followed him are linked by their shared opposition to white supremacy. It is essential to attend to the contestations within and between organizations, to differences of opinion about the best way to dismantle Jim Crow and about the kind of world that should emerge in its wake. Griggs worked closely with other African American writers and thinkers of his time. The problem is that without access to his correspondence, it is virtually impossible to reconstruct the nature of his conversations with others.
During my time at Duke, I came across a letter from Griggs to the African American historian, Carter G. Woodson. I found the letter in the Carter G. Woodson Papers on microfilm at the University of North Carolina at Chapel Hill. It is one of the few documents that contain Griggs's signature and personal letterhead. The document includes several quotes from his own writings and designates his role as founder of a small publishing company, his second, called the National Welfare League.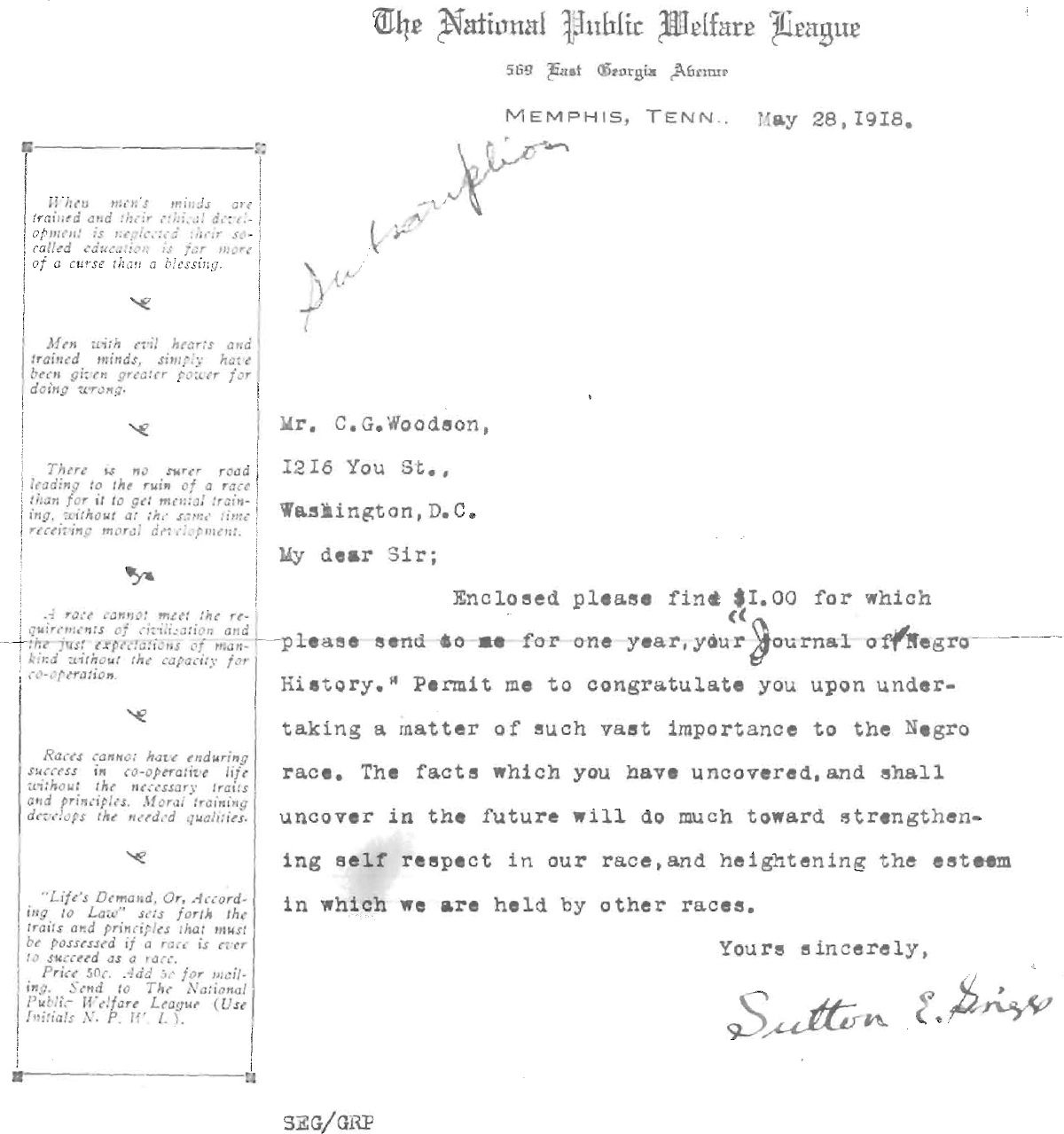 At first glance the letter seems to contain little information, but after sharing it with my collaborators we realized that it counts as a find because it reveals quite clearly Griggs's mindset about the purpose of scholarship, i.e., building racial self-respect and burnishing the prestige of the race: pure vindicationalism. There is value in the signature, as well. It might be transferred to the title page of future reissues of his novels as a trace of the living hand of an important author who was almost allowed to vanish.
Though I found the letter, it was only after consulting with my colleagues that I could actually read the information it contained. Reading together, it turns out, might just be a good deal more productive than reading alone. This sort of collaborative reading and interpretation is precisely what the Humanities Writ Large initiative enables.
Referenced People